Courses
Course Registration
Upcoming Events
No events were found for this site
Course Delivery
The five FNHP courses are offered in an online format, which has the benefit of being highly flexible and mobile - allowing you to access content from any mobile, tablet or computer with an internet connection. 
If you require financial assistance to pursue your FNHP designation, check out our new sponsorship and upskilling program:
Online Format
There are two semesters per year: Winter (January-April) and Fall (September-December). Each course has a total of seven lessons and two assignments that are to be completed over a 12-week period.  On average, students should expect to devote approximately 3 -7 hours per week on each lesson. The time for each learner will vary based on prior education and work experiences. This time includes not only the completion of the readings, the optional quiz, discussion activities, but also the interaction with other students and preparation for the two assignments. Generally, you should look to complete an average of one lesson per week as per the course itinerary. 
Online courses require each student to:
Read the course material,
Participate in discussion activities, complete internet research and/or explain best practices and,
Complete two assignments.
And each student is encouraged to: 
Share your experience, resources and concerns with our on-line community (when appropriate),
Read and respond (when appropriate) to other students' posts,
Complete the quiz at the end of each lesson,
Ask questions of the facilitator or of each other.
FNHP 2023 Fall Semester Course Itinerary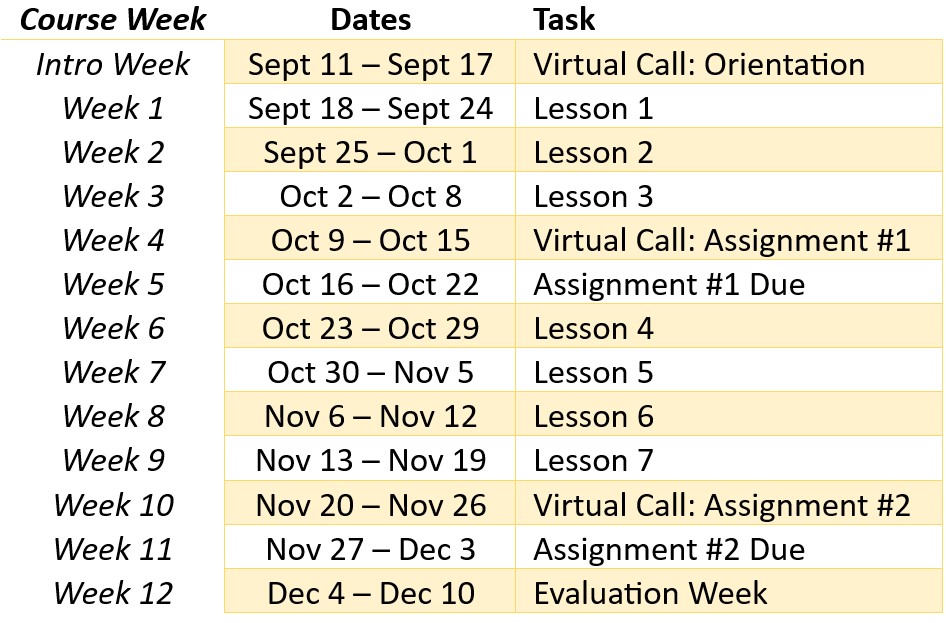 Important Dates & Deadlines
September 1st, 2023 – registration deadline. A $250 deposit is required before students can access the course.
September 11th, 2023 – last day to withdraw without penalty. A cancellation fee of $250 applies for cancellations after this date.
September 18th, 2023 – cancellations between September 12th, 2023 and September 18th, 2023 will incur a $250 administrative cancellation fee.  No refunds to students are issued for cancellations after this date.